Word Crossy Calm answers
Welcome! We have all the answers and cheats you need to beat every level of Word Crossy, the addictive game for Android, iPhone, iPod Touch and iPad. This is a game for the true Word Genius! The app game is easy to start and progressively becomes more difficult, making it fun and challenging to play. Connect letters in a level and finish a word. Do it all in the correct way and you will be able to clear the grid. If you don't know the answer use the form below, select your level pack and we will show you all the answers you wanna know. Have fun!
Search by letters, enter all the letters: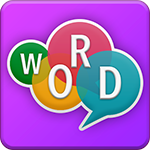 Connect letters in a level and finish a word. So entertaining and totally for free! You have surely played many word games and been invincible. Word Crossy combines word search and crossword style games. By Connecting letters, you get a complete word and fill it into a crossword blank. This is only the first step! If you want to win, you still need to find all the words hidden in the crossword. Challenge yourself and train your brain.
---